The Holy Hearts collection pieces are meant to stimulate our minds on the importance of family and most especially to remind us of our model, The Holy Family. I invite you to wear the Holy Hearts necklace as an expression of your devotion to the Sacred Heart of Jesus, the Immaculate Heart of Mary and the Chaste Heart of Saint Joseph.

In the event you commit to making your act of consecration to the Holy Hearts (Holy Family), feel free use the readily available prayers below. These prayers were taken from the IPieta App, which I strongly recommend. This app has a treasure of prayers, devotions and novenas available for the faithful. You can also find other sources by searching online.



When you complete your consecration to the Holy Family, you may delight in this necklace that can be inscribed on the reverse side with the commitment date of your and/or your family's first consecration to the Holy Family as a significant reminder of this holy devotion. I hope you enjoy this beautiful devotion of our Catholic faith!

Pax et Bonum!

PS. These jewelry pieces will be available for bracelets and rings as well! Quick note: this collection is a continuation of my first Holy Hearts released on May 2020 :) BEBEATI is always committed to bringing you original, yet classic and traditional pieces!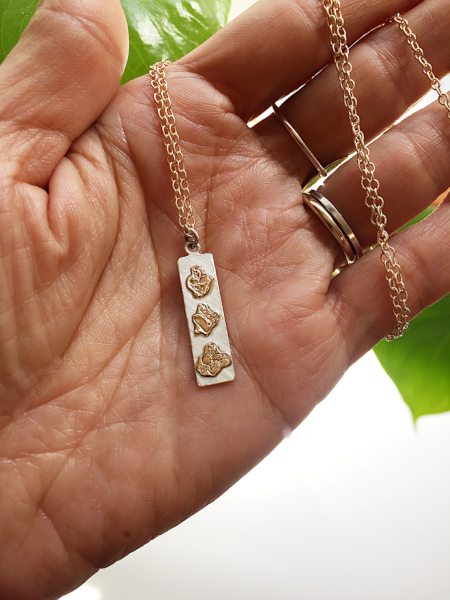 ACT OF CONSECRATION TO THE HOLY FAMILY
+++
A SOLEMN ACT OF CONSECRATION TO THE SACRED HEART OF JESUS
by Saint Margaret Mary Alacoque (Source: IPieta - APP)
I give myself and consecrate to the Sacred Heart of our Lord Jesus Christ, my person and my life, my actions, pains and sufferings, so that I may be unwilling to make use of any part of my being other than to honor, love and glorify the Sacred Heart.
This is my unchanging purpose, namely, to be all His, and to do all things for the love of Him, at the same time renouncing with all my heart whatever is displeasing to Him.
I therefore take You, O Sacred heart, to be the only object of my love, the guardian of my life, my assurance of salvation, the remedy of my weakness and inconstancy, the atonement for all the faults of my life and my sure refuge at the hour of death.
Be then, O Heart of goodness, my justification before God the Father, and turn away from me the strokes of his righteous anger.
O Heart of love, I put all my confidence in You, for I fear everything from my own wickedness and frailty, but I hope for all things from Your goodness and bounty.
Remove from me all that can displease You or resist Your holy will; let Your pure love imprint Your image so deeply upon my heart, that I shall never be able to forget You or to be separated from You.
May I obtain from all Your loving kindness the grace of having my name written in Your Heart, for in You I desire to place all my happiness and glory, living and dying in bondage to You. Amen.
A SOLEMN ACT OF CONSECRATION TO THE IMMACULATE HEART OF MARY
by Venerable Pope Pius XII (Source: IPieta App)
Most Holy Virgin Mary, tender Mother of men, to fulfill the desires of the Sacred Heart of Jesus and the request of the Vicar of Your Son on earth, we consecrate ourselves and our families to your Sorrowful and Immaculate Heart, O Queen of the Most Holy Rosary, and we recommend to You, all the people of our country and all the world.
Please accept our consecration, dearest Mother, and use us as You wish to accomplish Your designs in the world.
O Sorrowful and Immaculate Heart of Mary, Queen of the Most Holy Rosary, and Queen of the World, rule over us, together with the Sacred Heart of Jesus Christ, Our King.
Save us from the spreading flood of modern paganism; kindle in our hearts and homes the love of purity, the practice of a virtuous life, an ardent zeal for souls, and a desire to pray the Rosary more faithfully.
We come with confidence to You, O Throne of Grace and Mother of Fair Love. Inflame us with the same Divine Fire which has inflamed Your own Sorrowful and Immaculate Heart.
Make our hearts and homes Your shrine, and through us, make the Heart of Jesus, together with your rule, triumph in every heart and home. Amen.
ACT OF CONSECRATION TO ST. JOSEPH
(Prayer from IPieta - APP)
O BLESSED JOSEPH, foster father of my Savior and chaste spouse of the mother of God, this day I irrevocably adopt thee for my intercessor with the Almighty as well as my model, my protector and my father in this valley of exile. O St. Joseph, whom the Lord constituted guardian of His Family, I beseech thee to extend thy tender solicitude over all my interests. Kindle in my heart a vehement love for Jesus and enable me to serve Him with all thy devotedness and fidelity. Aid my inability to venerate Mary as my advocate, to honor her as my Queen and to love her as my Mother. Be my never-failing guide in the way of virtue and piety, and grant that, after having faithfully followed thee in the path of justice, I may receive thy powerful protection at the hour of my death. Amen.
or
ACT OF CONSECRATION TO ST. JOSEPH
by Rev. Donald Calloway, MIC
O Glorious Patriarch and Patron of the Church! O Virgin Spouse of the Virgin Mother of God! O Guardian and Virginal Father of the Word Incarnate! In the presence of Jesus and Mary, I choose you this day to be my father, my guardian, and my protector. O great St. Joseph, whom God has made the Head of the Holy Family, accept me, I beseech you, though utterly unworthy, to be a member of your "Holy House." Present me to your Immaculate Spouse; ask her also to adopt me as her child. With her, pray that I may constantly think of Jesus, and serve him faithfully to the end of my life. O Terror of Demons, increase in me virtue, protect me from the evil one, and help me not to offend God in any way. O my Spiritual Father, I hereby consecrate myself to you. In faithful imitation of Jesus and Mary, I place myself and all my concerns under your care and protection. To you, after Jesus and Mary, I consecrate my body and soul, with all their faculties, my spiritual growth, my home, and all my affairs and undertakings. Forsake me not, but adopt me as a servant and child of the Holy Family. Watch over me at all times, but especially at the hour of my death. Console and strengthen me with the presence of Jesus and Mary so that, with you, I may praise and adore the Holy Trinity for all eternity. Amen.